Jun Takahashi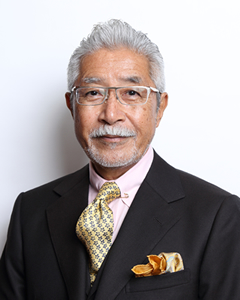 What is the most important element for the bespoke suit to be fully worthy of its name?
Nowadays there are various ways of having a new suit made, such as ordering by pattern, system or size. You choose the fabric, have your measurements taken and have a suit made with the ready-made paper pattern that is closest to your size. You could choose the number of the front buttons or the width of the lapel, or even the number of pleats in the trousers. You will also have a choice between side vents and centre vent. With so many choices, you may call it bespoke. Said that, could we really state that it is a genuine bespoke suit?
I believe that the most important element in bespoke suits is "correction of the physique". Among customers who are the same height of 175 cm, some have good posture holding the chest out and some are round-shouldered. We need different cuttings for customers with the same breast measurement of 95cm depending on the shape, whether it's thick or flat. Among the customers who have the same 80 cm waist measurement, some like to wear a belt higher and some lower. There are people that are bow-legged and knock-kneed. Each shape needs a different sewing pattern.
In our shop, experienced cutters who have mastered professional skills will take your measurements with good observation of your body. The cutter who measures you will create a set of individual paper patterns just for you all by hand, adding modifications to correct your physique and your taste on the data taken. The fabric cut by the cutter in charge is put for basting and after a trial fitting the pattern is corrected before sewing. The patterns are kept for years and modifications will be made every time you have any change in your measurements and also fine adjustments to suit the trend of the day every time you come back to us. Needless to say, advanced sewing techniques are essential in genuine tailored clothes. We have our own factory and in there, skilled seamsters exert themselves together with the up-and-coming seamsters to sew every piece you ordered in cooperation with the cutter in charge. Consequently the intentions of the cutter who knows your taste will get across every hole and corner.
Precise cutting and careful sewing: both indispensable for genuine tailored clothes. All our staffs are improving their skills day by day to become a "technical expert" above everything.
Biography
| | |
| --- | --- |
| 1949 / May 13 | Born as the first son to Kaoru Takahashi in Ginza 4-chome. |
| 1972/ March | Graduated from Keio University, Department of Economics |
| 1972 / April | Joined Ginza Takahashi, started working in the factory while studying in Japan Men's Apparel Academy |
| 1975/ March | Graduated from Japan Men's Apparel Academy and developed the skill in England |
| 1976/ July | Graduated from Bespoke Tailoring Course at London College of Fashion as the first Japanese student |
| 1976/ December | Returned to Tokyo and started working in the shop of Ginza Takahashi |
| 1982/ February | Director |
| 1985/ February | Executive Managing Director |
| 1991/ September | CEO |